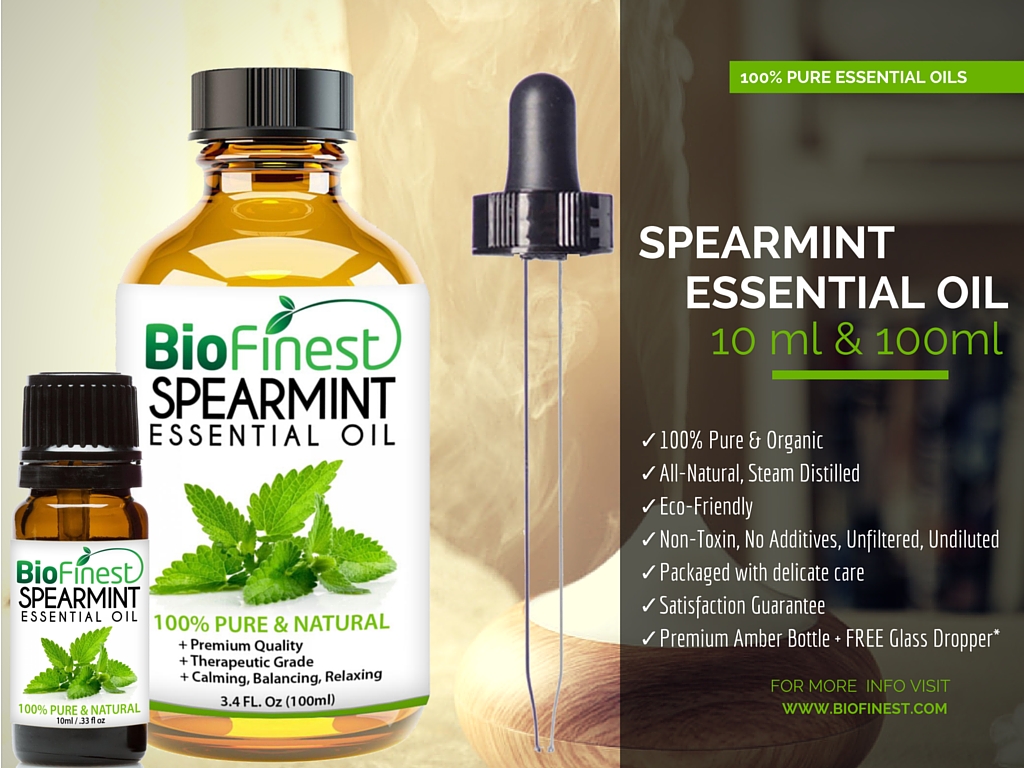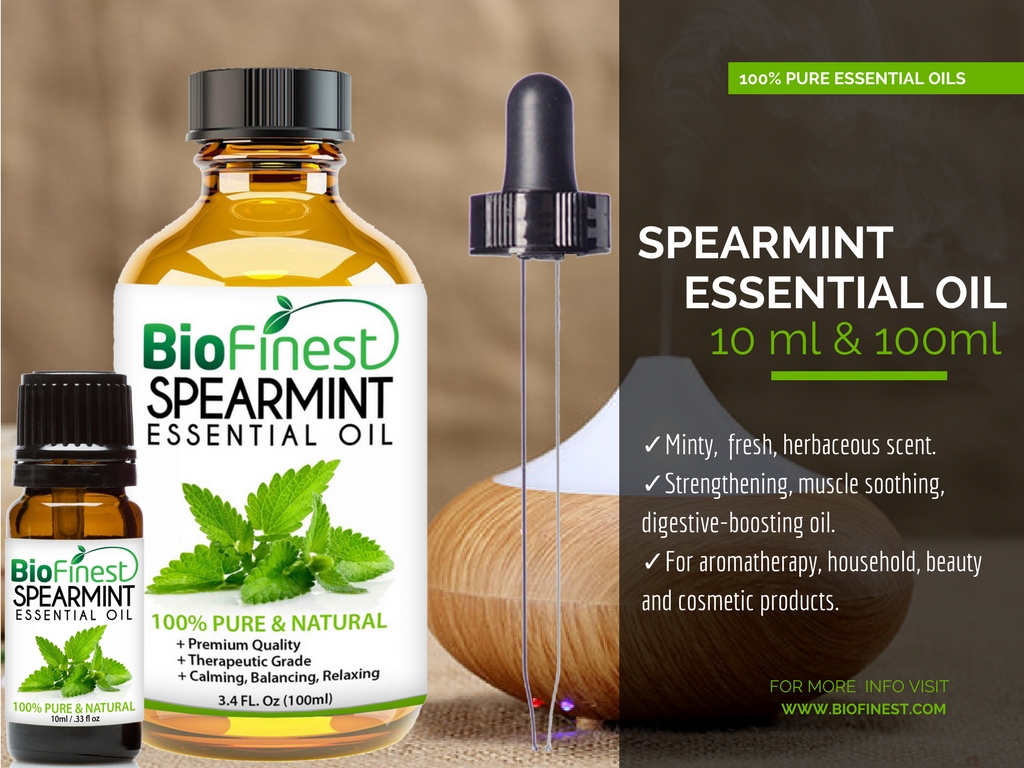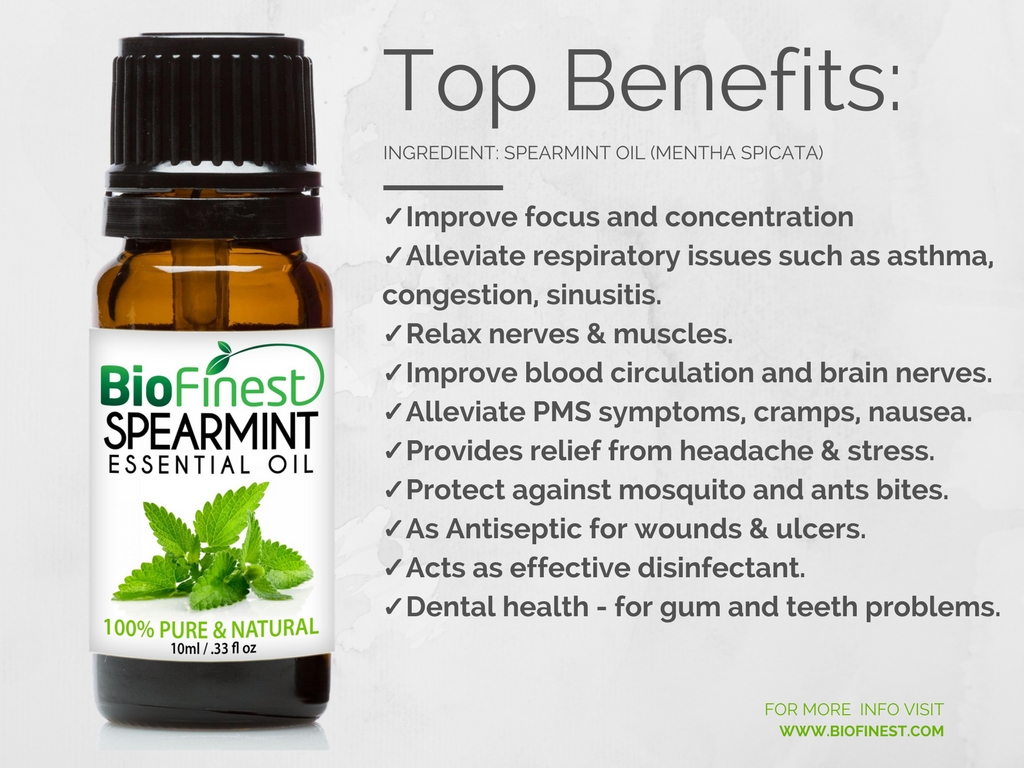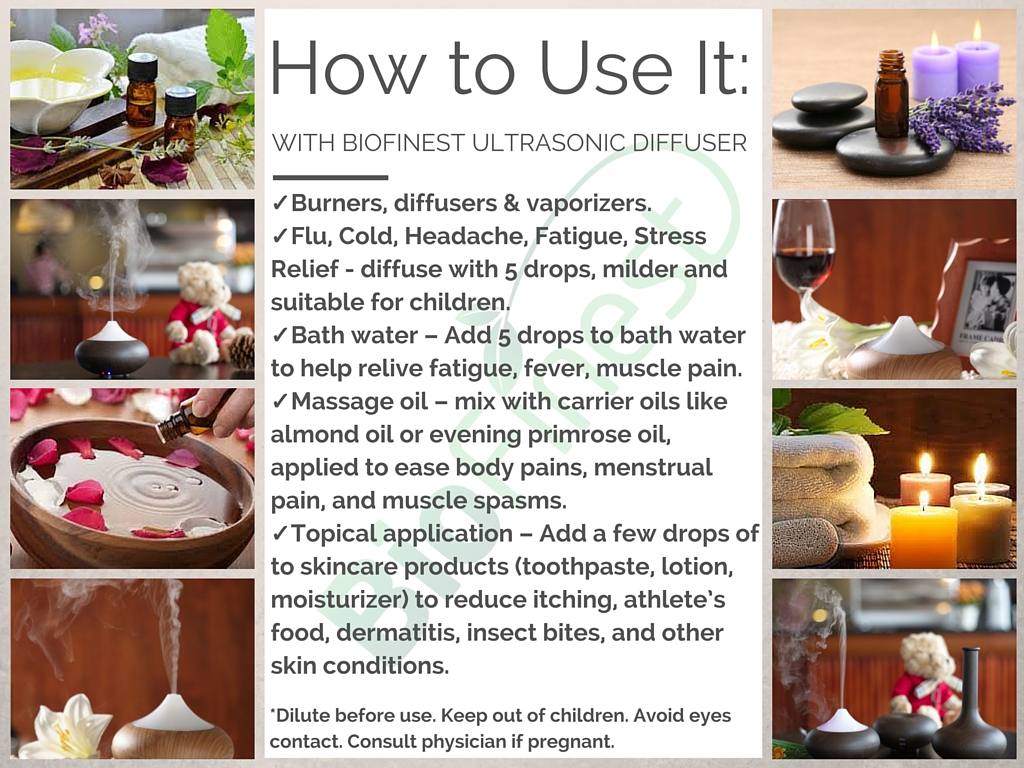 What it is:
Spearmint essential oil is the gentler than peppermint oil, especially for children. Although the oils possess similar properties, spearmint contains lower amounts of menthol compared to peppermint oil. In modern times, this essential oil is still widely used to alleviate digestive discomfort, as well as for menstrual problems and nausea.
     

What it does:
Spearmint (Mentha spicata) has a minty, slightly fruity scent, softer than peppermint. A rich antioxidant, spearmint helps support the respiratory and nervous systems and may help open and release emotional blocks leading to a sense of balance and well-being.
For effective results and maximum absorption to the skin, use with a carrier oil*.
Safe for ALL skin types!
       

Antiseptic properties to help protect wounds and ulcers from infection

       

Help to alleviate transmitted diseases (STDs), such as gonorrhea and syphilis.

       

Help to alleviate internal wounds and infections in the stomach and intestines.

       

Help relax nerves and muscle spasms due to its menthol content

       

Help excessive gas pass naturally from stomach and intestines

       

Help to alleviate headaches and stress-related neural problems

       

Help to address menstrual problems, such as irregular periods, obstructed menses, and early menopause as it induces the secretion of the hormone estrogen

       

Help to stimulate nerves and brain function, as well as blood circulation

       

Help to alleviate common respiratory problems, such as colds, nasal congestion, asthma, and flu

       

And much more!
     

How To Use It:
       

Aromatherapy oil: Because of its menthol content, spearmint oil is often used in aromatherapy to help treat fatigue, headaches, migraines, nervousness, and even digestive problems.

       

Fragrance – This essential oil is added to certain types of perfume. It is commonly mixed with other herbs like jasmine, lavender, bergamot, and sandalwood.

       

Ingredient in pharmaceutical products – It is often added to tooth powders, gargles, and toothpastes.

       

Disinfectant – Spearmint oil can be used to treat internal and external infections, including scabies, dermatitis, syphilis, and other transmittable conditions.

       

Bath oil – When added to bath water, spearmint oil can induce relaxation and can cool you off by reducing your body temperature.

       

Massage oil – With its antispasmodic properties, spearmint oil can help relieve muscle pain and even abdominal pain due to menstruation.

       

Insecticide – This oil can ward off mosquitoes and other insects. It is often added to insect repellents, creams, mats, and fumigants.
     

What it does NOT contain:
       

Parabens

       

Sulfates

       

Phthalates

       

Synthetic Fragrances

       

Synthetic Dyes

       

GMOs

       

Triclosan
     

It blends well with:
It blends well with Basil, Eucalyptus, Lavender, Rosemary and Jasmine.
     

Precautions
Possible skin sensitivity. Keep out of reach of children. If you are pregnant, nursing, or under a doctor's care, consult your physician. Avoid contact with eyes, inner ears, and sensitive areas.
     

What else you need to know:
We take immense pride in the quality of our oils.  We ensure high quality oils by carefully extracting and cold-pressing or steam-distilling them into 100% pure oil.
*A carrier oil is a natural way to boost absorption and therapeutic properties of other topical oils. Never waste a drop when pairing with high-absorbency carrier oils! We provide high quality carrier oils and recommend to use with our shea butter, jojoba oil, fractionated coconut oil, argan oil, rosehip oil, or tamanu oil.
     

Our 60-Day Satisfaction Guarantee:
We provide the products you LOVE with a 100% money back guarantee.