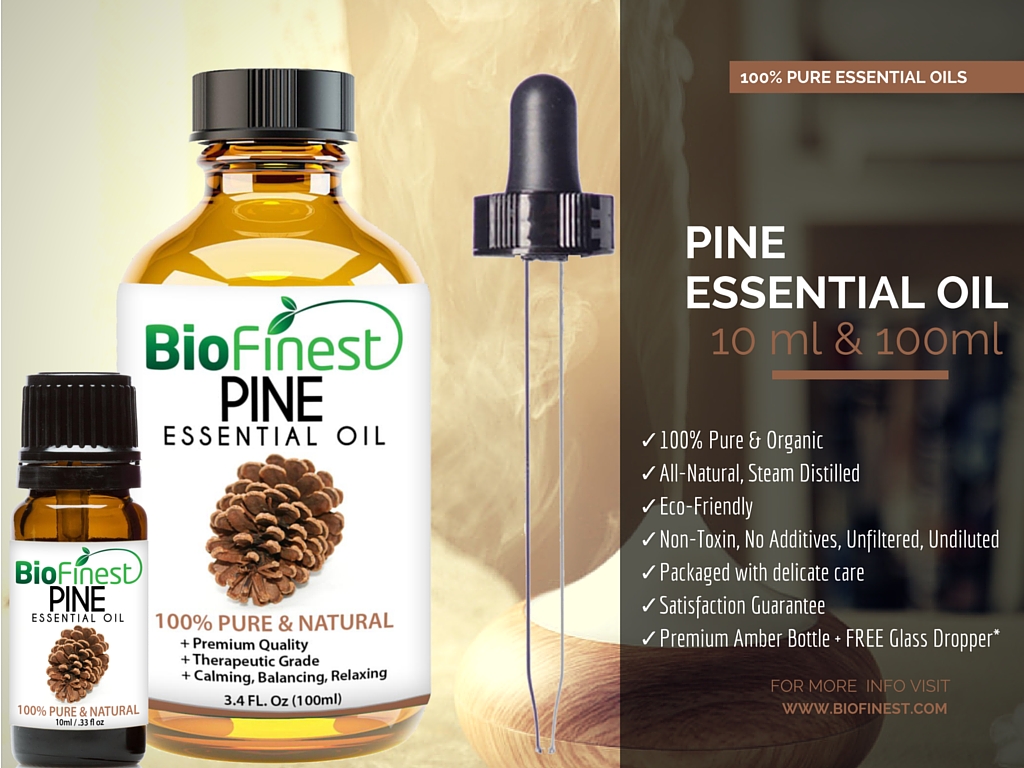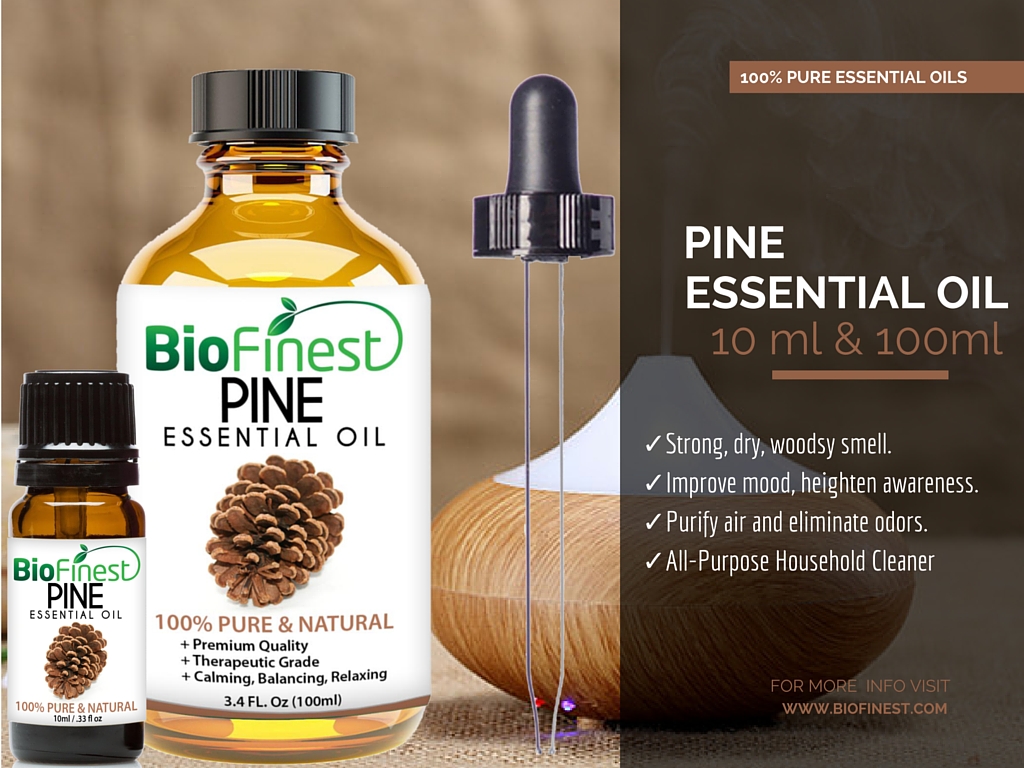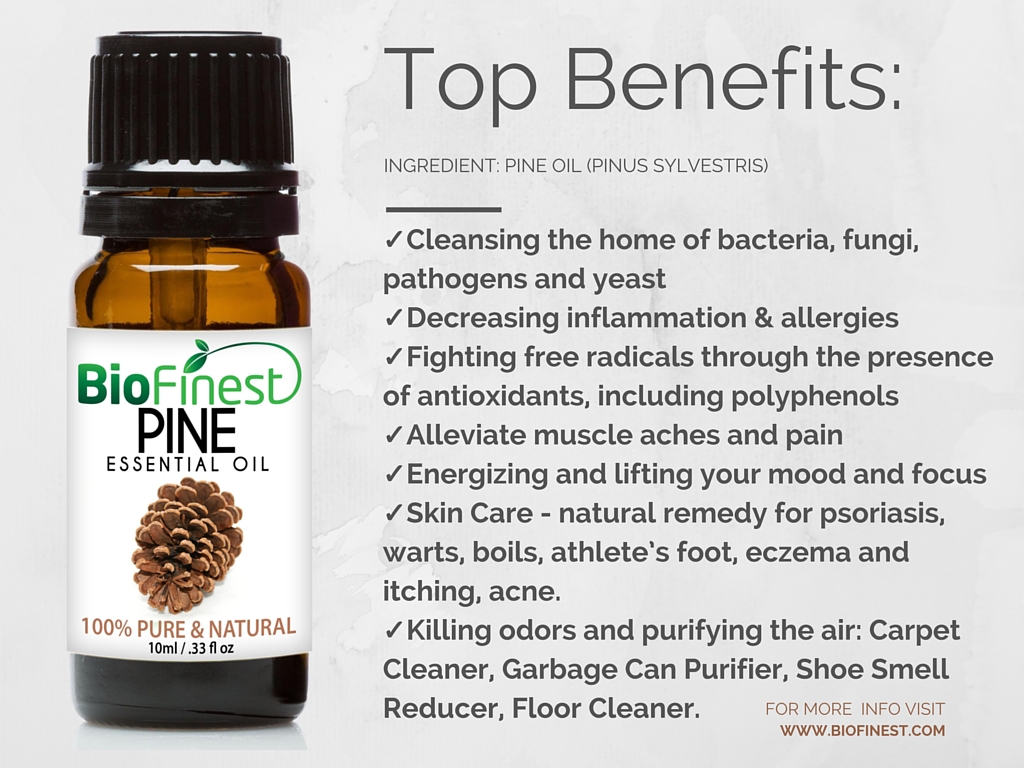 What it is:
Pine oil is a colorless to pale yellow essential oil, is extracted through steam distillation of the needle-like foliage of the pine tree. Depending on its source, pine oil may either have a fresh, earthy, and forest-like fragrance or a strong, dry, balsamic, turpentine-like odor.
      What it does:
Pine oil is useful to help relieve mental, physical and sexual fatigue, while having a cleansing and clearing effect on a room. Even though it can be used in cystitis, hepatitis and prostate problems, as well as to improve circulation and to relieve rheumatism, gout, sciatica and arthritis, it should be done so with care due to the sensitizing nature of this oil.
For effective results and maximum absorption to the skin, use with a carrier oil*.
Safe for ALL skin types!
        Antimicrobial, antiseptic, antifungal, anti-neuralgic, and anti-rheumatic properties
        As a decongestant and expectorant for respiratory ailments
        Ease muscular stiffness and rheumatism as a rubefacient
        Relax the body when added in bath
        Stimulate healthy metabolism
        Boost activity levels
        Help eliminate excess water, uric acid, salt, and fat through urination
        Neutralize free radicals with its rich antioxidant capacity
        Alleviate urinary tract infection (UTI)
        Alleviate asthma, bronchitis, colds and flu
        And much more!
      How To Use It:
        Fragrance in soaps, creams, detergents, and many pharmaceutical preparations – Analgesic ointments, nasal decongestants, and cough and cold medicines
      Clear Congestion -  Add 2 to 3 drops of pine EO into a diffuser and it runs for 30 to 60 minutes. 

Massage it into your chest to relieve chest congestion.

        Insect repellant – To protect your wool sweaters from moths and other insects, pour 10 drops of pine oil onto small pieces of untreated wood. Place the pieces of wood in your closets or drawers.
        Air freshener – Eliminate the awful smell of cigarettes and stale air by adding four drops of pine oil to one cup of water. Pour the mixture in a spray bottle, shake it well, and spray it to instantly freshen up your room. Avoid spraying it on furniture.
        Massage oil before and after exercise – Create your own pre-and post-workout massage oil to prevent or soothe strained muscles. Add three drops of pine oil, juniper-berry oil, and rosemary oil in two ounces of jojoba oil.
      What it does NOT contain:
        Parabens
        Sulfates
        Phthalates
        Synthetic Fragrances
        Synthetic Dyes
        GMOs
        Triclosan
      It blends well with:
It blends well with cedarwood, eucalyptus, lavender, niaouli, rosemary and sage.
      Precautions
Possible skin sensitivity. Keep out of reach of children. If you are pregnant, nursing, or under a doctor's care, consult your physician. Avoid contact with eyes, inner ears, and sensitive areas.
      What else you need to know:
We take immense pride in the quality of our oils.  We ensure high quality oils by carefully extracting and cold-pressing or steam-distilling them into 100% pure oil.
*A carrier oil is a natural way to boost absorption and therapeutic properties of other topical oils. Never waste a drop when pairing with high-absorbency carrier oils! We provide high quality carrier oils and recommend to use with our shea butter, jojoba oil, fractionated coconut oil, argan oil, rosehip oil, or tamanu oil.
      Our 60-Day Satisfaction Guarantee:
We provide the products you LOVE with a 100% money back guarantee.