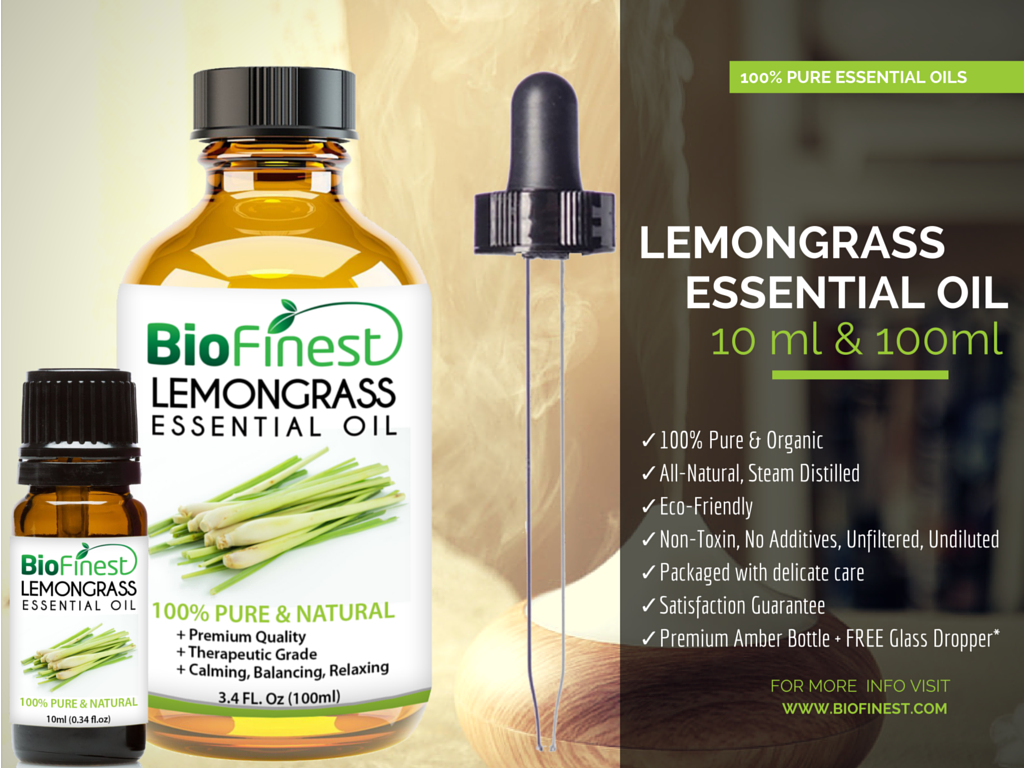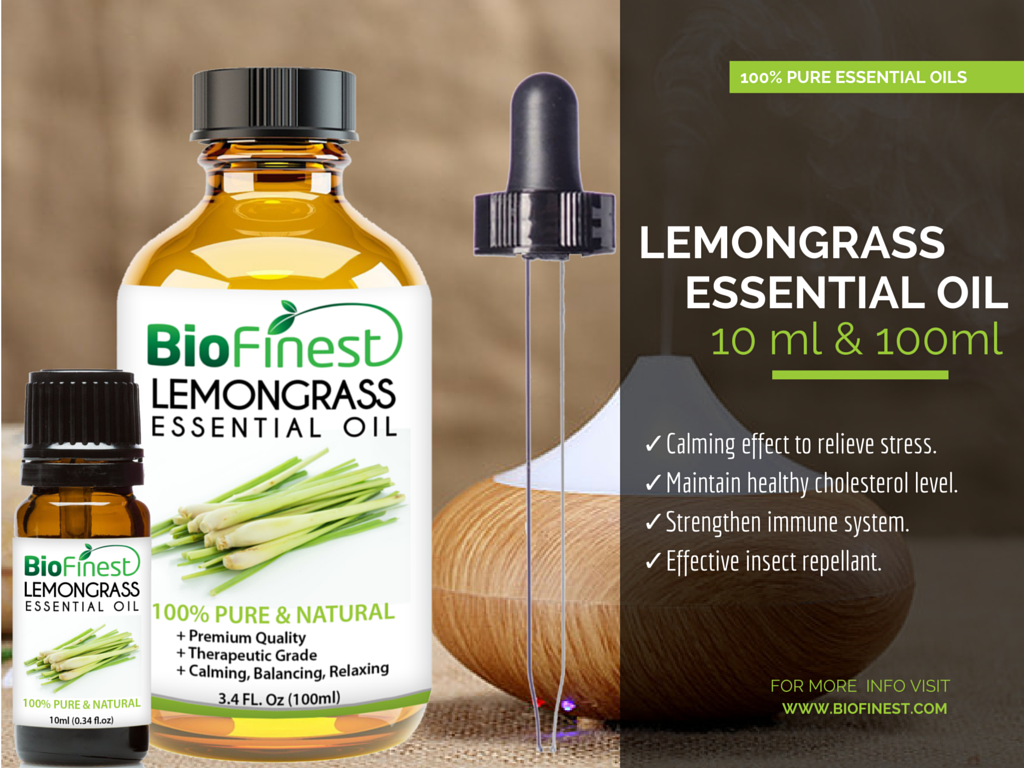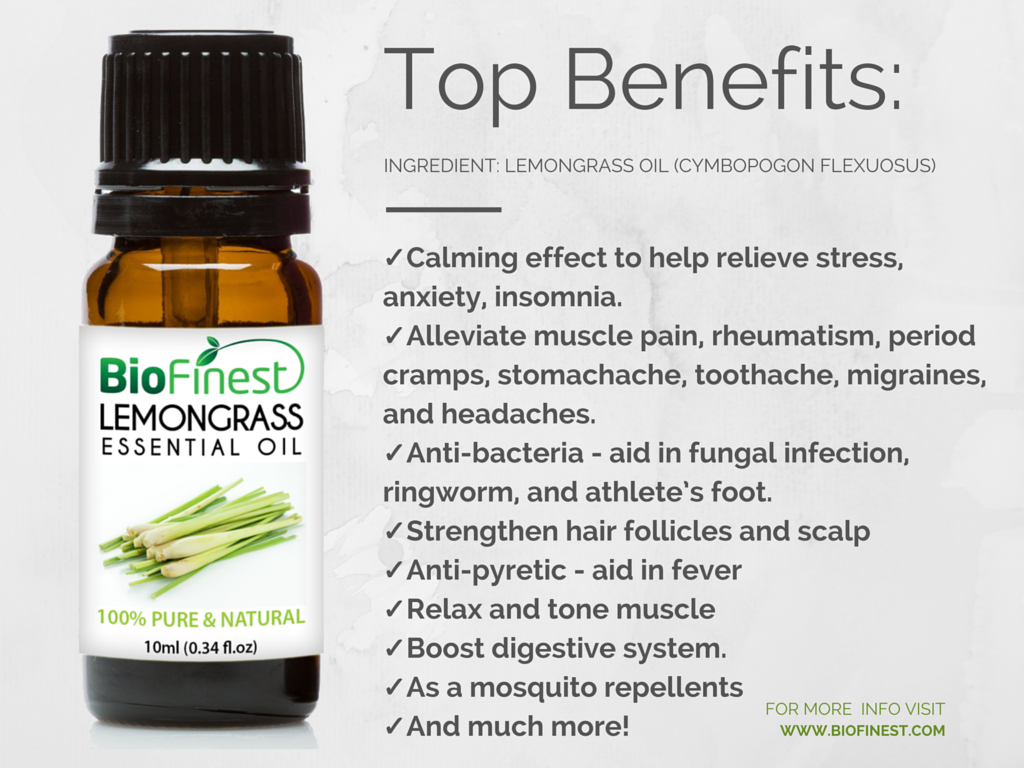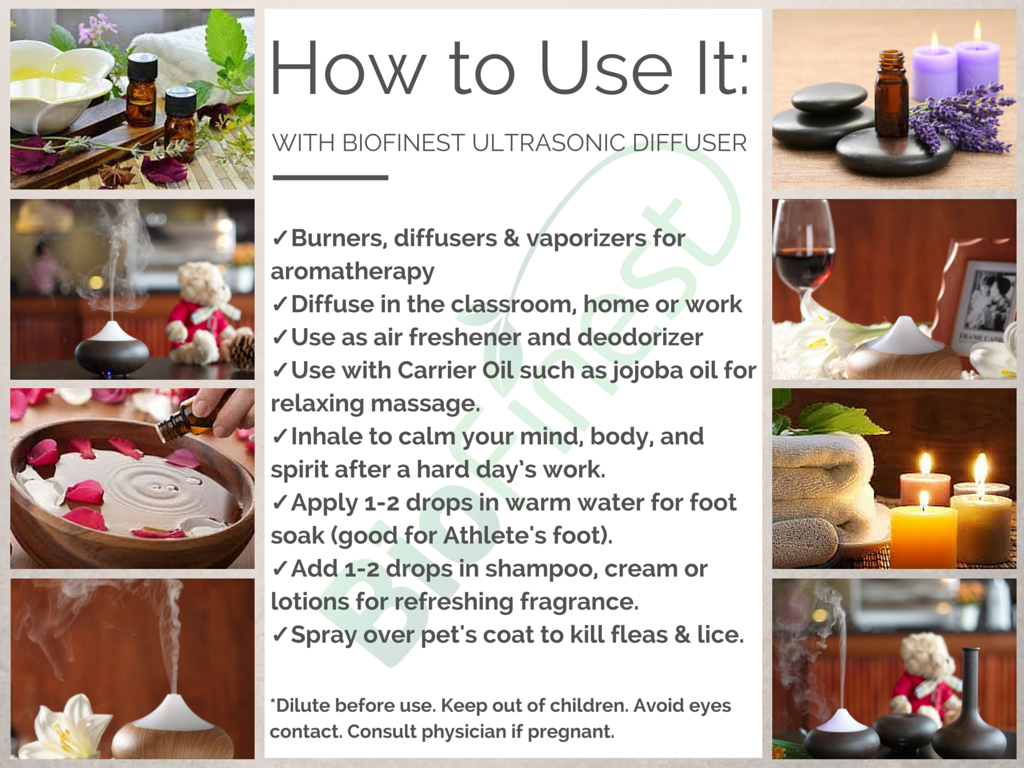 What it is:
Lemongrass oil is extracted from the leaves of lemongrass plant. It has a thin consistency, and a pale or bright yellow color. It has a strong, fresh, lemony, and earthy scent.  Lemongrass oil is a great addition to various skin care and cosmetic products, such as soaps, deodorants, shampoos, lotions, and tonics.
It also works as an air freshener and deodorizer, especially when blended with other essential oils like geranium or bergamot.
     

What it does:
Lemongrass (Cymbopogon flexuosus) has a light, fresh, citrus aroma with earthy undertones. Refreshing, rejuvenating, stimulating, and balancing, it inspires and improves mental clarity. Lemongrass is also known to help support the circulatory system.
For effective results and maximum absorption to the skin, use with a carrier oil*.
Safe for ALL skin types!
       

Calming effect to help relieve stress, anxiety, insomnia.

       

Help to relax and tone muscle

       

Alleviate muscle pain, rheumatism, period cramps, stomachache, toothache, migraines, and headaches.

       

Anti-inflammation and analgesic properties to alleviate pain

       

Help to strengthen hair follicles and scalp conditions

       

Anti-bacteria properties to alleviate fungal infection, ringworm, and athlete's foot.

       

Anti-pyretic properties to alleviate fever

       

Help to alleviate digestive issues and boost digestive system.

       

And much more!
     

How To Use It:
       

Make a refreshing foot bath. Add two drops to a bowl of warm water, and soak your feet for 10 minutes. If your feet are aching, add two tablespoons of Epsom salts.

       

Make a massage oil by mixing it with sweet almond or jojoba oil.

       

Kill your pet's fleas and lice by spraying diluted lemongrass oil all over his coat. You can also soak his collar in it, add it to his final rinse after shampooing, or spray it on his bedding.

       

Blend it into your favorite bath products or add it to your bath water.
     

What it does NOT contain:
       

Parabens

       

Sulfates

       

Phthalates

       

Synthetic Fragrances

       

Synthetic Dyes

       

GMOs

       

Triclosan
     

It blends well with:
Some of the best carrier oils you can use with lemongrass oil are basil, palmarosa, vetiver oil, lavender, rose, clary sage, patchouli, ginger, fennel, geranium, sandalwood, and cedarwood
     

Precautions
Possible skin sensitivity. Keep out of reach of children. If you are pregnant, nursing, or under a doctor's care, consult your physician. Avoid contact with eyes, inner ears, and sensitive areas.
     

What else you need to know:
We take immense pride in the quality of our oils.  We ensure high quality oils by carefully extracting and cold-pressing or steam-distilling them into 100% pure oil.
*A carrier oil is a natural way to boost absorption and therapeutic properties of other topical oils. Never waste a drop when pairing with high-absorbency carrier oils! We provide high quality carrier oils and recommend to use with our shea butter, jojoba oil, fractionated coconut oil, argan oil, rosehip oil, or tamanu oil.
     

Our 60-Day Satisfaction Guarantee:
We provide the products you LOVE with a 100% money back guarantee.