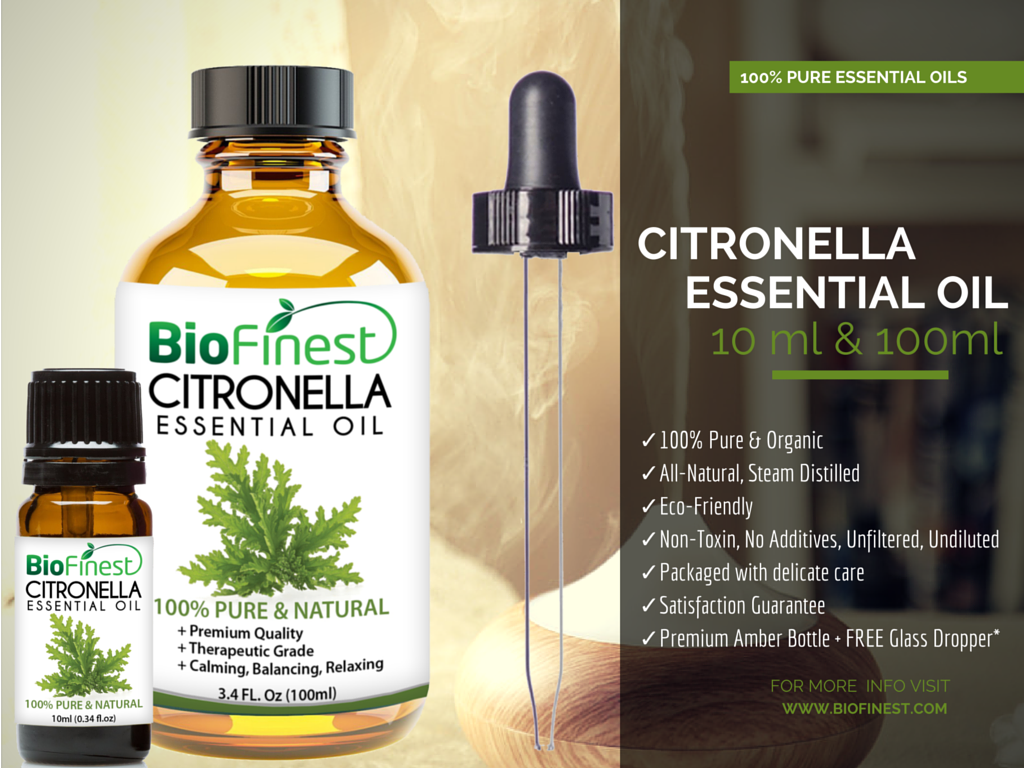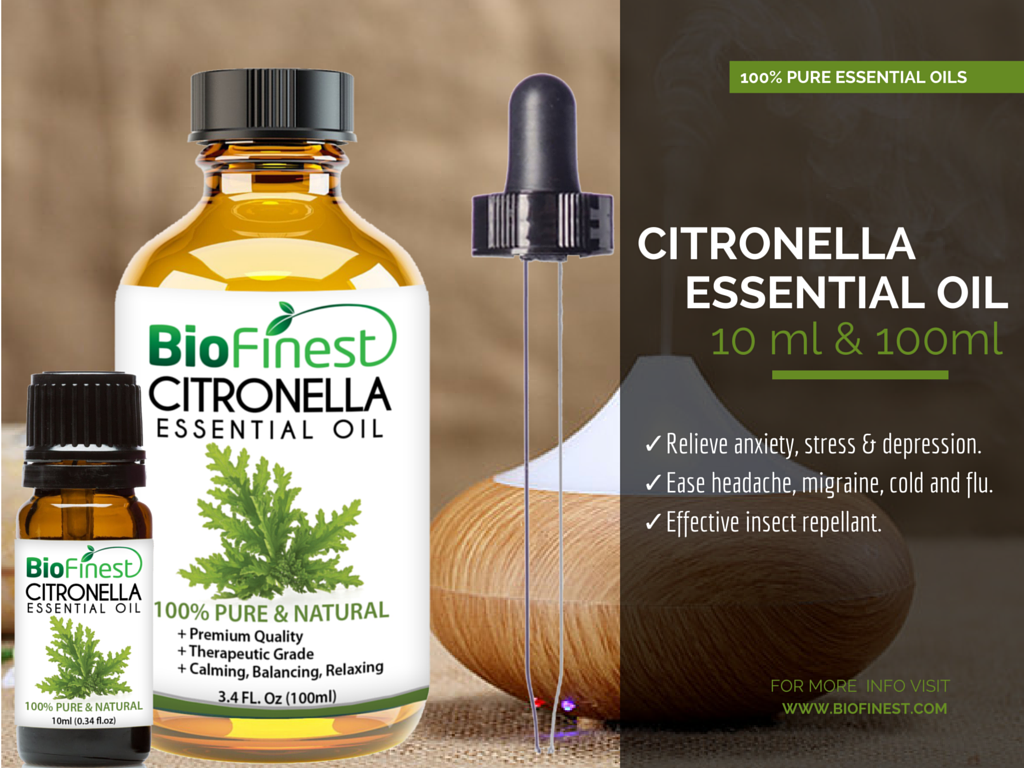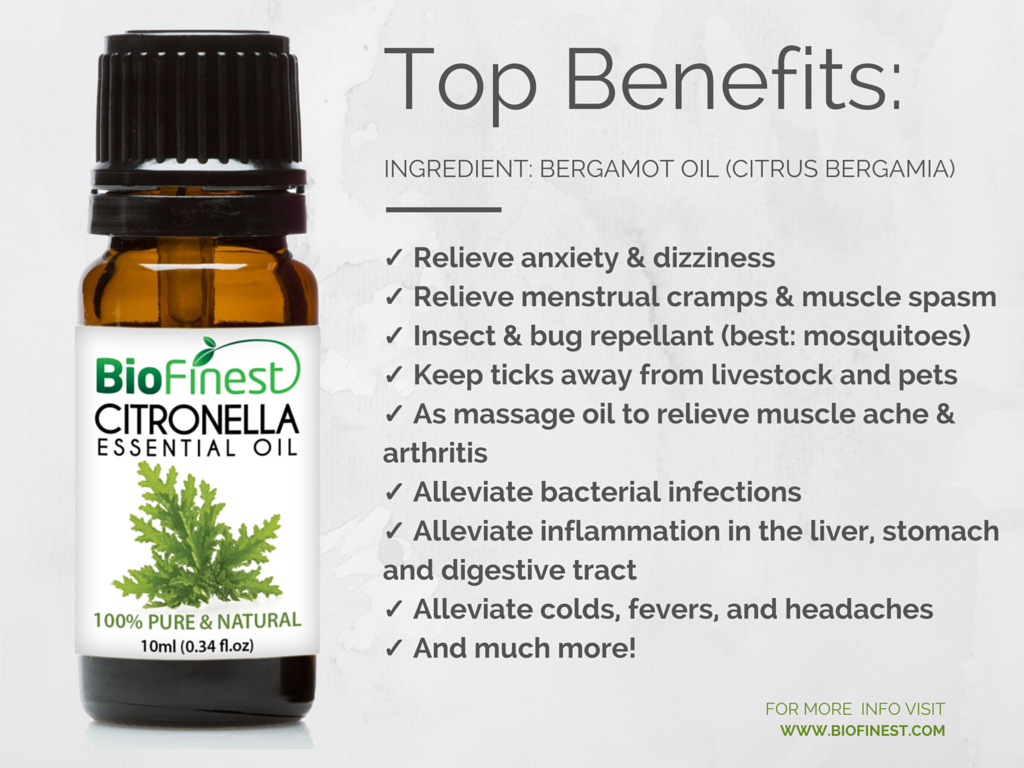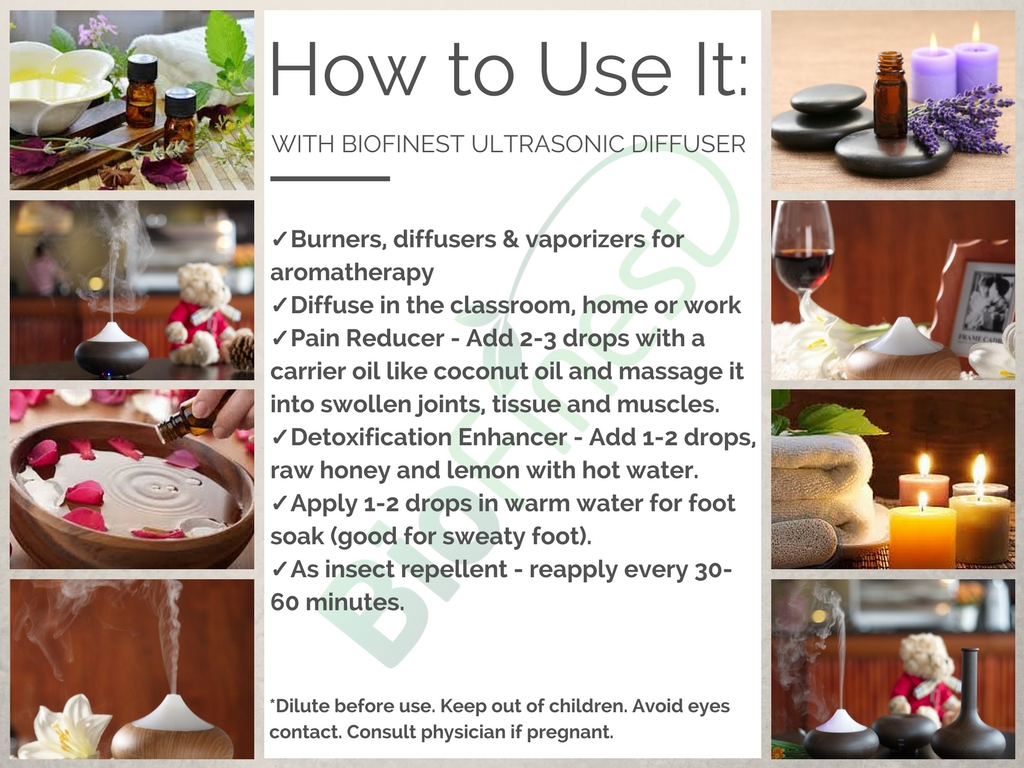 What it is:
Citronella essential oil is obtained from the Cymbopogon genus plant family. It is extracted through steam distillation of the grasses Cymbopogon nardus and Cymbopogon winterianus. This results in two types of citronella oil:
       i.          Ceylon citronella oil (from C. nardus) has a warm, citrusy, and wood scent, and has a pale to dark yellow color
      ii.          Java citronella oil (from C. winterianus) has a fresh lemon-like scent but is darker in color, is considered the one with the higher quality.
     

What it does:
Citronella oil has a slightly sweet, lemony smell, is popularly used as an insect repellent. Commonly used as an aromatherapy oil, citronella can help treat and prevent colds, fevers, and headaches. As a massage oil, it may relieve pain in individuals suffering from arthritis.
For effective results and maximum absorption to the skin, use with a carrier oil*.
Safe for ALL skin types!
       

Insect and bug repellant especially mosquitoes

       

Help to calm barking dogs

       

As aromatherapy oil to alleviate colds, fevers, and headaches

       

As massage oil to relieve muscle ache and arthritis

       

Help to keep ticks away from livestock and pets

       

Anti-bacteria and anti-septic properties in the body

       

Relief from anxiety and dizziness

       

Relief from menstrual cramps and muscle spasms

       

Alleviate inflammation in the liver, stomach and digestive tract

       

And much more!
     

How To Use It:
       

Burners and vaporizers for aromatherapy, used as an insect repellent, for colds and flu, for clearing the mind and to refresh the sickroom

       

Just place a few drops onto a cloth or tissue, or using a diffuser. You may use citronella by itself or mix it with other natural agents. I've created my own natural insect repellent by combining citronella with other essential oils like lemongrass oil, peppermint, and vanillin.

       

In a cream or lotion, citronella oil is most useful to keep the tropical wearer safe from mosquitoes that cause malaria. It also has a dramatic freshening effect on tired sweaty feet.

       

Can also be added to sunscreen, wristbands, and flea collars

       

Can also be used in soaps, household cleaners, and detergents
     

What it does NOT contain:
       

Parabens

       

Sulfates

       

Phthalates

       

Synthetic Fragrances

       

Synthetic Dyes

       

GMOs

       

Triclosan
     

It blends well with:
It blends well with bergamot, geranium, lemon, orange, lavender and pine.
     

Precautions
Possible skin sensitivity. Keep out of reach of children. If you are pregnant, nursing, or under a doctor's care, consult your physician. Avoid contact with eyes, inner ears, and sensitive areas.
     

What else you need to know:
We take immense pride in the quality of our oils.  We ensure high quality oils by carefully extracting and cold-pressing or steam-distilling them into 100% pure oil.
*A carrier oil is a natural way to boost absorption and therapeutic properties of other topical oils. Never waste a drop when pairing with high-absorbency carrier oils! We provide high quality carrier oils and recommend to use with our shea butter, jojoba oil, fractionated coconut oil, argan oil, rosehip oil, or tamanu oil.
     

Our 60-Day Satisfaction Guarantee:
We provide the products you LOVE with a 100% money back guarantee.