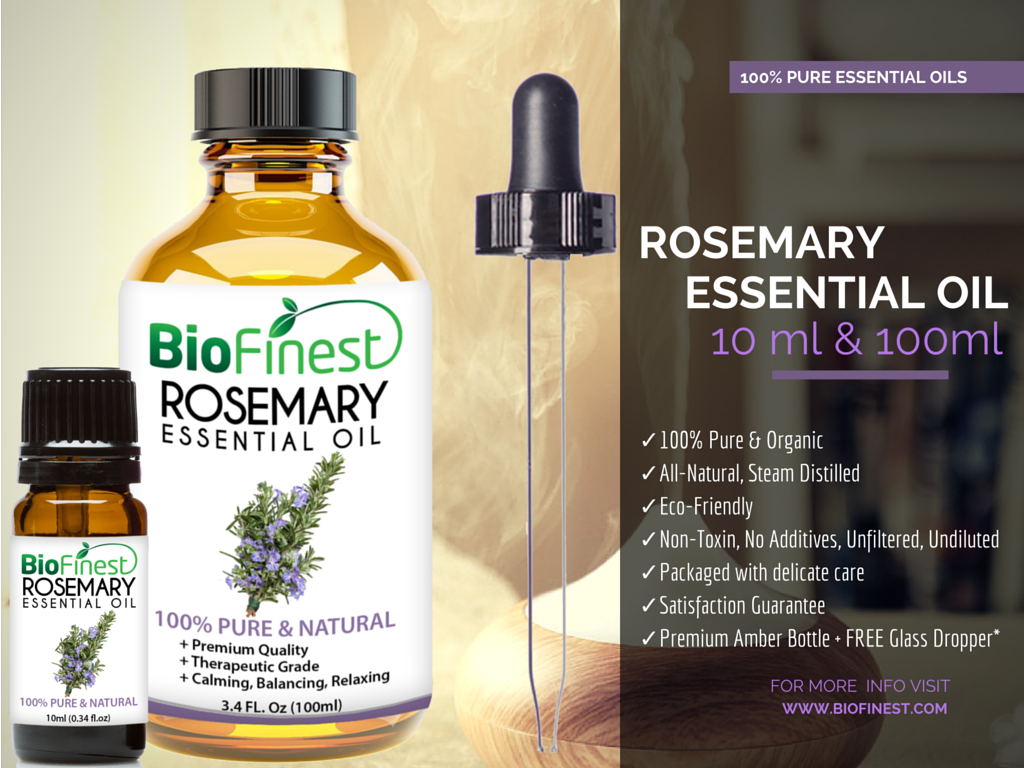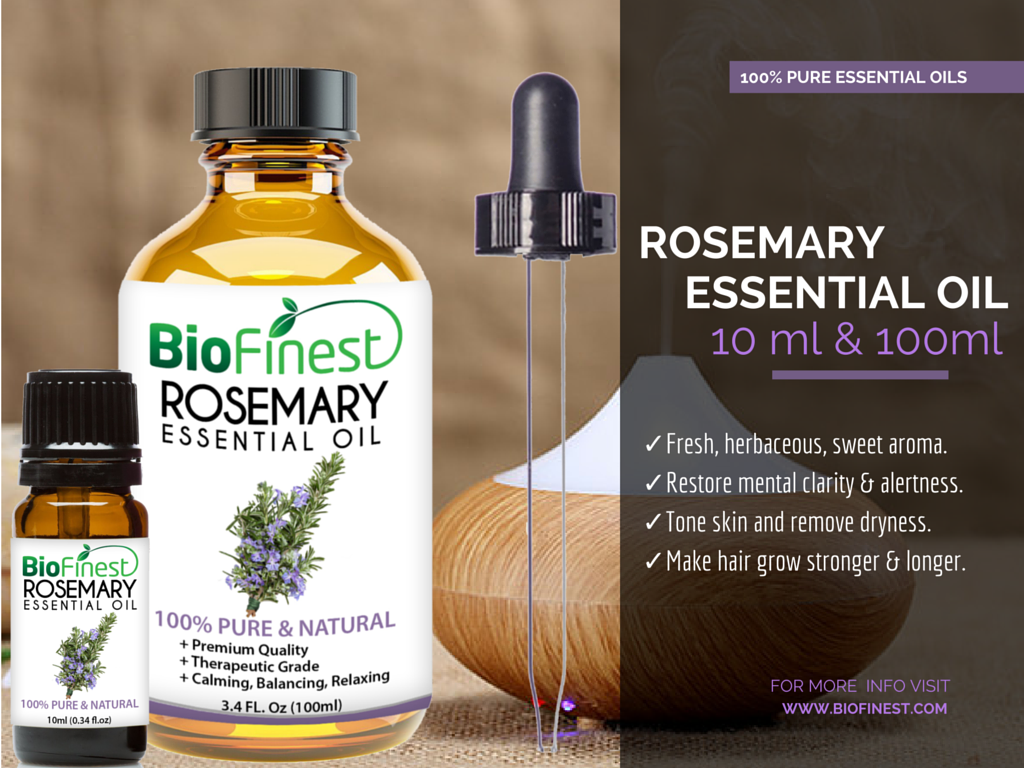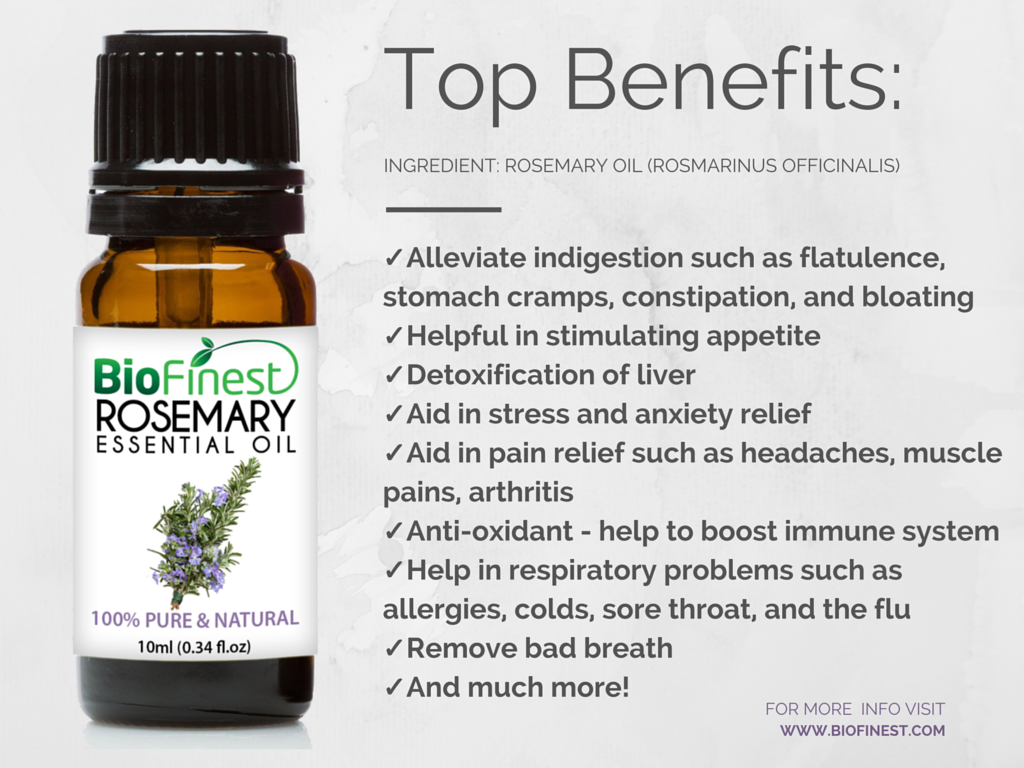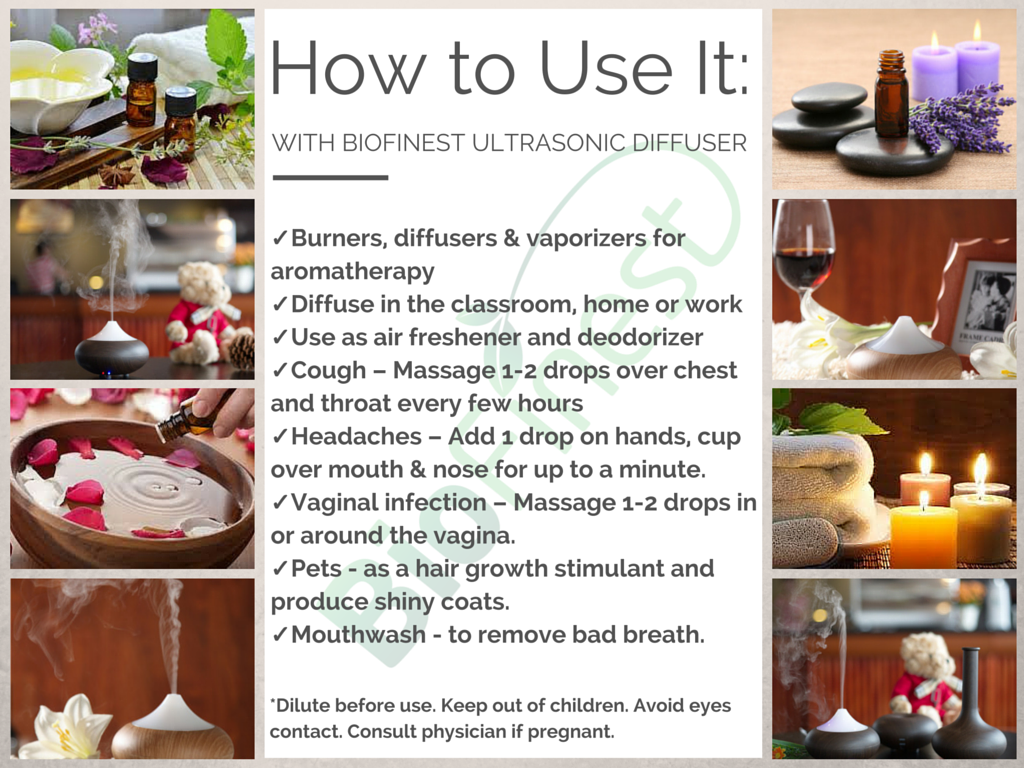 What it is:
Related to mint and looking like lavender, rosemary has leaves like flat pine needles touched with silver. It boasts of a woodsy, citrus-like fragrance that has become a feature of many kitchens, gardens, and apothecaries worldwide. Rosemary oil is used in candles, perfumes, bath oils, fresheners, and cosmetics, boosting mental energy when inhaled.
      What it does:
Rosemary (Rosmarinus officinalis) has a fresh, herbaceous, sweet, slightly medicinal aroma. An energizing oil, it may be beneficial for helping to restore mental alertness when experiencing fatigue. It is also a popular ingredient in skin and hair care products.
For effective results and maximum absorption to the skin, use with a carrier oil*.
Safe for ALL skin types!
        Help to alleviate indigestion such as flatulence, stomach cramps, constipation, and bloating
        Helpful in stimulating appetite
        Help in detoxification of liver
        Aid in stress and anxiety relief
        Aid in pain relief such as headaches, muscle pains, arthritis
        Anti-oxidant - help to boost immune system
        Help in respiratory problems such as allergies, colds, sore throat, and the flu
        And much more!
      How To Use It:
        Clarity – Add a drop to your hands, rub together, and cup over your mouth and nose for up to a minute
        Cough – Massage one to two drops over your chest and throat every few hours
        Headaches – Add a drop to your hands, and cup over your mouth and nose for up to a minute. You may also apply a drop topically to the aching parts of your head.
        Learning and memory – Diffuse the oil throughout the room, inhale directly from the bottle, rub over your temples, or apply to your toes regularly.
        Vaginal infection – Massage one to two drops in or around the vagina, making sure to test for sensitivity before attempting internal use.
        Used on pets - as a hair growth stimulant and for helping produce shiny coats.
        As a mouthwash - helping remove bad breath.
        Used with 50:50 dilution, applied on ankles and wrists (two to four drops), applied to chakras or vitaflex points, directly inhaled, diffused, or as an dietary supplement
      What it does NOT contain:
        Parabens
        Sulfates
        Phthalates
        Synthetic Fragrances
        Synthetic Dyes
        GMOs
        Triclosan
      It blends well with:
It blends well with oils like lavender, frankincense, clary sage, basil, thyme, citronella, lemongrass, chamomile, and peppermint.
      Precautions
Possible skin sensitivity. Keep out of reach of children. If you are pregnant, nursing, or under a doctor's care, consult your physician. Avoid contact with eyes, inner ears, and sensitive areas.
      What else you need to know:
We take immense pride in the quality of our oils.  We ensure high quality oils by carefully extracting and cold-pressing or steam-distilling them into 100% pure oil.
*A carrier oil is a natural way to boost absorption and therapeutic properties of other topical oils. Never waste a drop when pairing with high-absorbency carrier oils! We provide high quality carrier oils and recommend to use with our shea butter, jojoba oil, fractionated coconut oil, argan oil, rosehip oil, or tamanu oil.
      Our 60-Day Satisfaction Guarantee:
We provide the products you LOVE with a 100% money back guarantee.