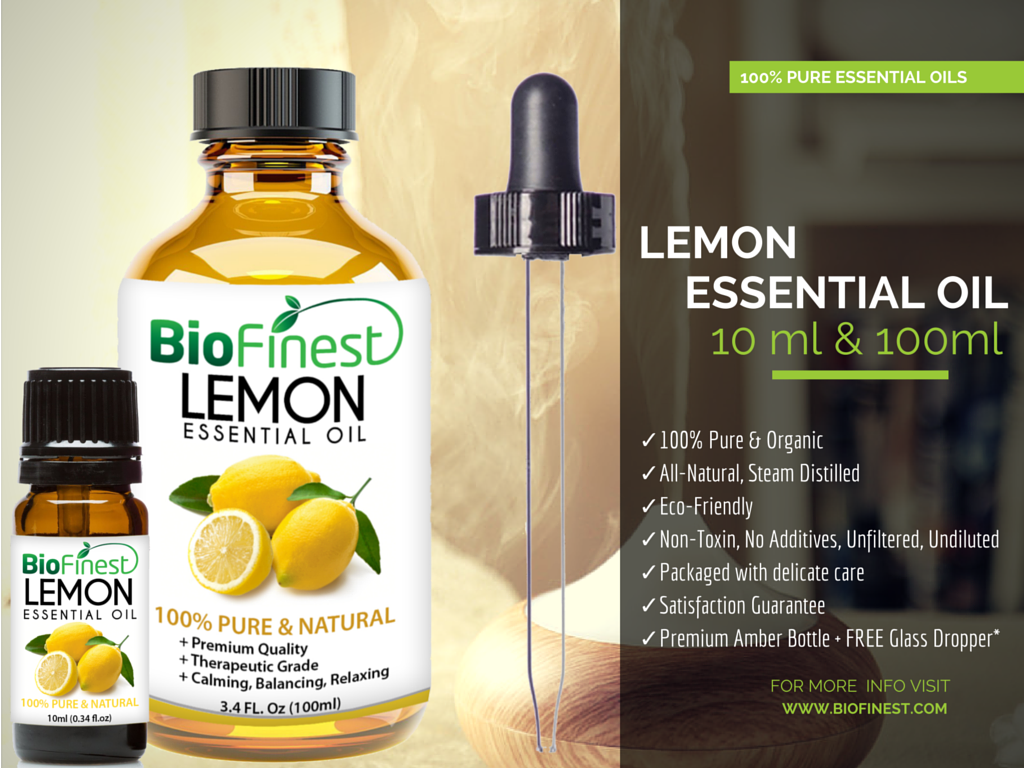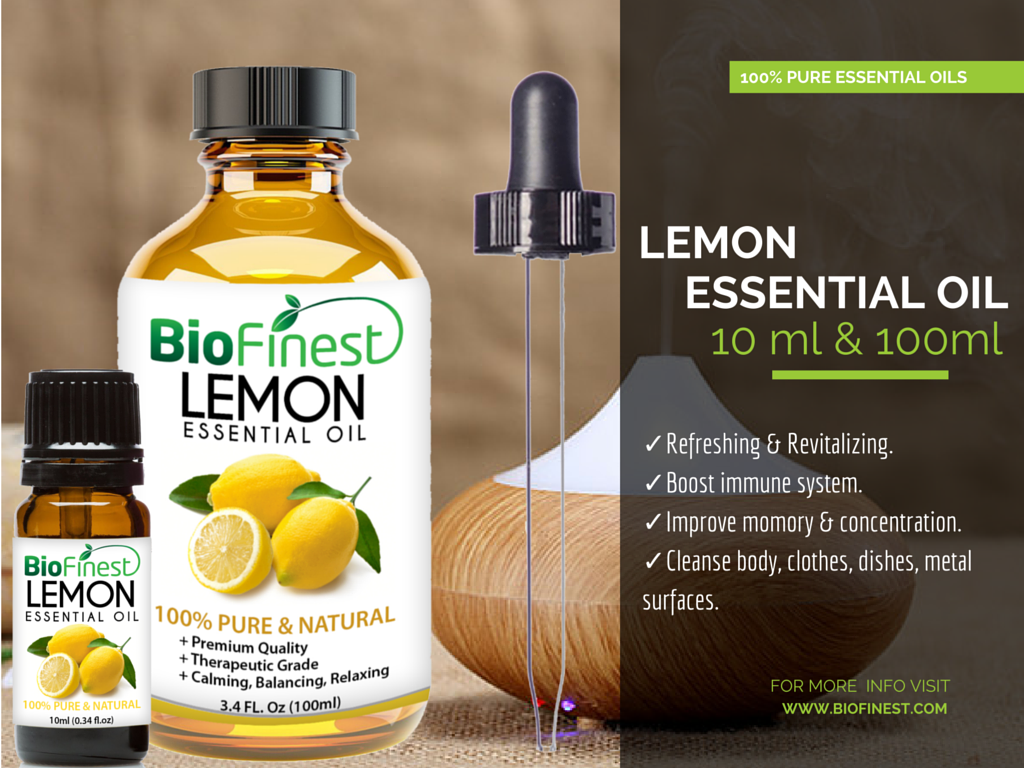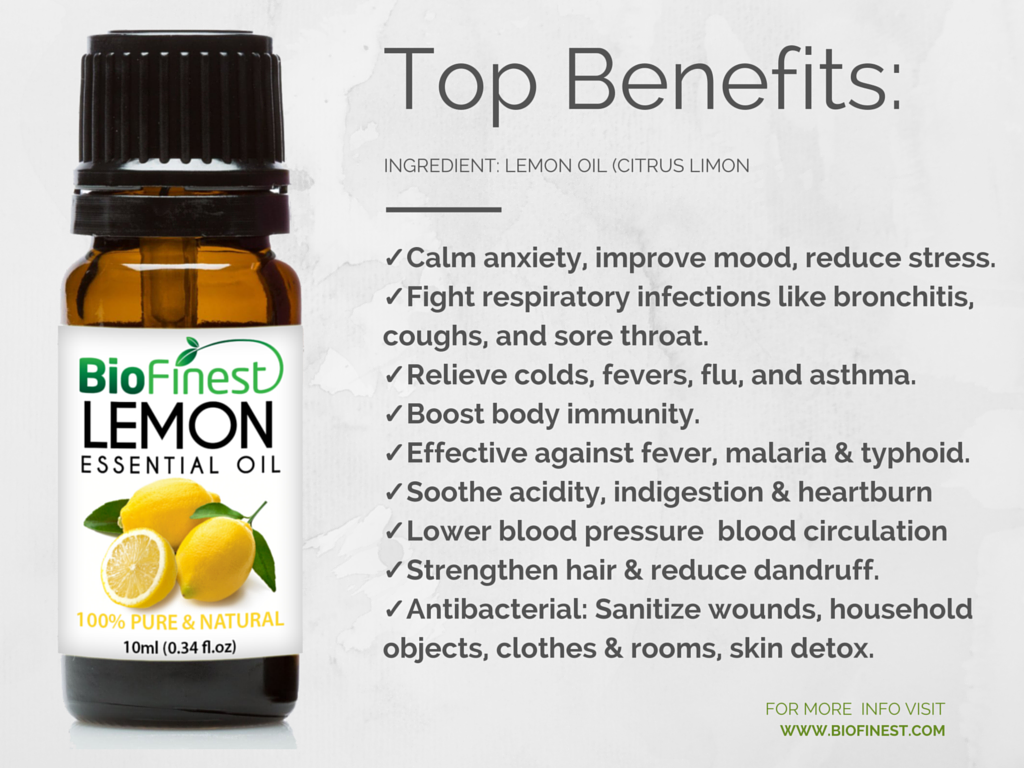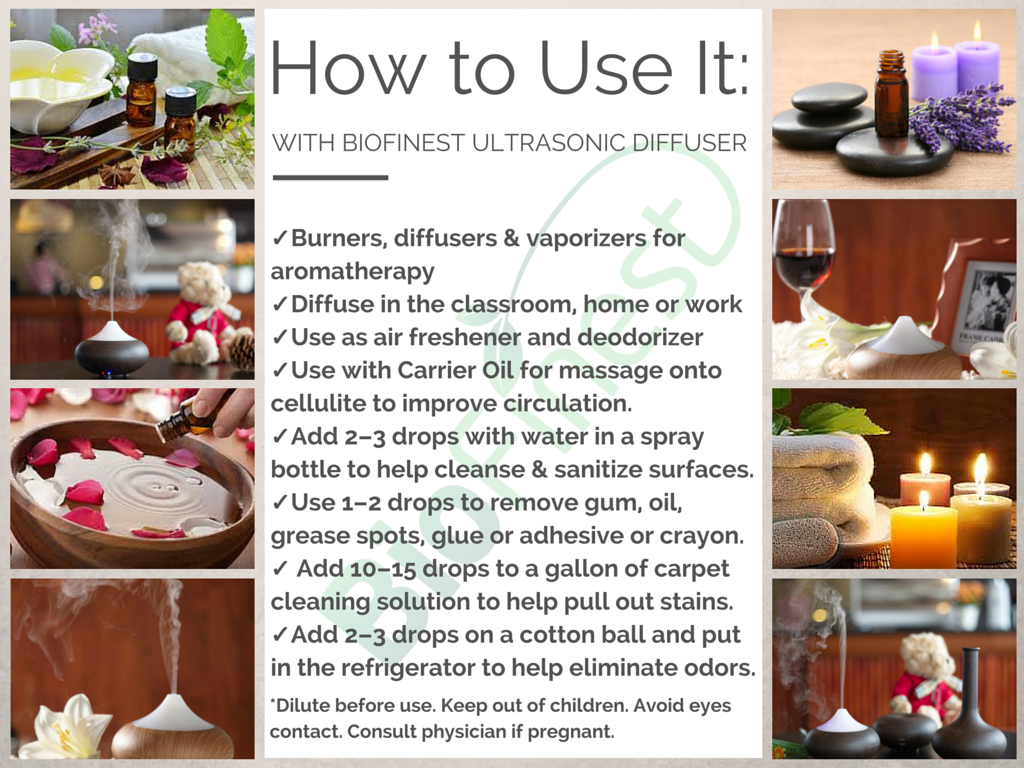 What it is:
Lemon essential oil, also known as Citrus limon oil, is extracted from lemon peels, which have many volatile oil glands in their pits. It has a strong, clean, purifying citrus scent that is revitalizing and uplifting. It consists of 68 percent d-limonene, a powerful antioxidant. It is delightfully refreshing in water and may be beneficial for the skin. Lemon essential oil is cold-pressed from the rinds of lemons.
     

What it does:
Lemon oil benefits skin by deeply nourishing it and it's a natural Disinfectant. Pure Lemon oil is concentrated and other than aromatherapy use, dilution with the carrier oil such as Jojoba, fractionated coconut oil, grapeseed or almond oil is recommended. Also, dilute before using on sensitive areas such as the face, neck etc.
For effective results and maximum absorption to the skin, use with a carrier oil*.
Safe for ALL skin types!
       

Fight respiratory infections like bronchitis, coughs, and sore throat. It can also bring relieve to discomfort from colds, fevers, flu, and asthma.

       

Support immune function by stimulating the production of white blood cells

       

Inhibit inflammation

       

Soothe acidity and heartburn, as it is helps balance your stomach pH level.

       

Address constipation and promote elimination of waste

       

Relive arthritis, due to its anti-inflammatory properties

       

Lower blood pressure and promote healthy blood circulation

       

Detoxify your skin and body of toxins

       

Control overactive sebaceous glands that contribute to acne and poor hair conditions

       

Reduce broken capillaries and varicose veins

       

Sanitize wounds, household objects, and hospital rooms due to its antibacterial properties

       

Calm anxiety, improve mood, and prevent emotional outbursts and violent behavior

       

And much more!
     

How To Use It:
       

Use 1–2 drops of lemon essential oil to remove gum, oil, grease spots, glue or adhesive, and crayon from most surfaces.

       

Combine 2–3 drops of lemon essential oil with water in a spray bottle to help cleanse and sanitize surfaces.

       

Place a drop of lemon essential oil on oily skin or blemishes to help balance oil glands and minimize oil production.

       

Soothe corns, calluses, or bunions by rubbing lemon essential oil on the affected area morning and evening.

       

Massage lemon essential oil into cellulite to help improve circulation and eliminate waste from cells.

       

Inhale lemon essential oil or place a few drops on a cotton ball to replenish your mind, body, and spirit.

       

Add 10–15 drops of lemon essential oil to a gallon of carpet cleaning solution to help pull out stains, brighten carpet and rugs, and leave a fresh smell in the room.

       

Place a few drops of your favorite citrus essential oil on a cotton ball and put in the refrigerator to help eliminate odors.
     

What it does NOT contain:
       

Parabens

       

Sulfates

       

Phthalates

       

Synthetic Fragrances

       

Synthetic Dyes

       

GMOs

       

Triclosan
     

It blends well with:
Effective carrier oils include coconut oil, olive oil, and jojoba oil.
     

Precautions
It is advisable not to use lemon oil without diluting it first, as it can irritate skin. It must be used with a carrier oil for direct application to skin. Keep out of reach of children. If you are pregnant, nursing, or under a doctor's care, consult your physician. Avoid contact with eyes, inner ears, and sensitive areas.
     

What else you need to know:
We take immense pride in the quality of our oils.  We ensure high quality oils by carefully extracting and cold-pressing or steam-distilling them into 100% pure oil.
*A carrier oil is a natural way to boost absorption and therapeutic properties of other topical oils. Never waste a drop when pairing with high-absorbency carrier oils! We provide high quality carrier oils and recommend to use with our shea butter, jojoba oil, fractionated coconut oil, argan oil, rosehip oil, or tamanu oil.
     

Our 60-Day Satisfaction Guarantee:
We provide the products you LOVE with a 100% money back guarantee.