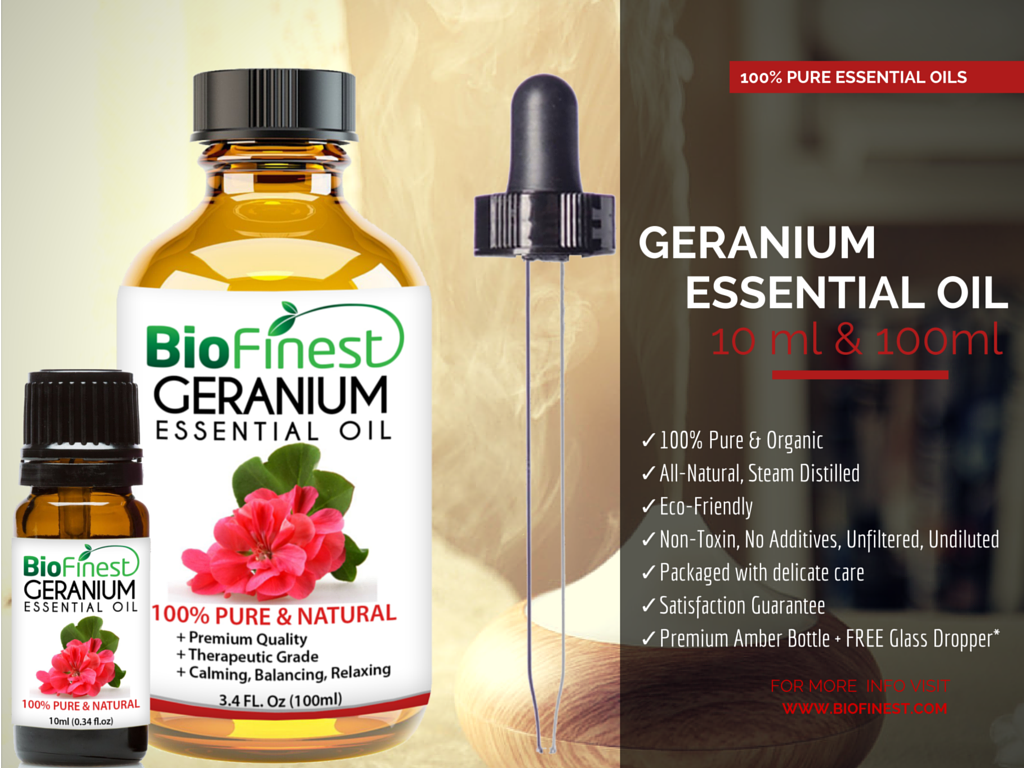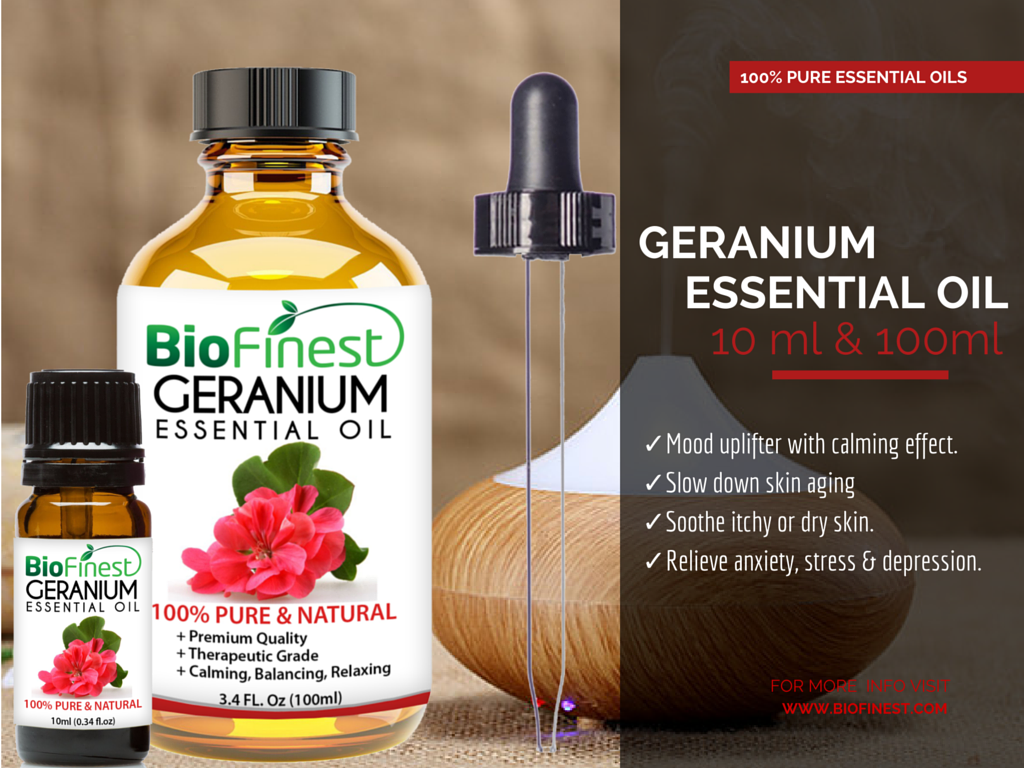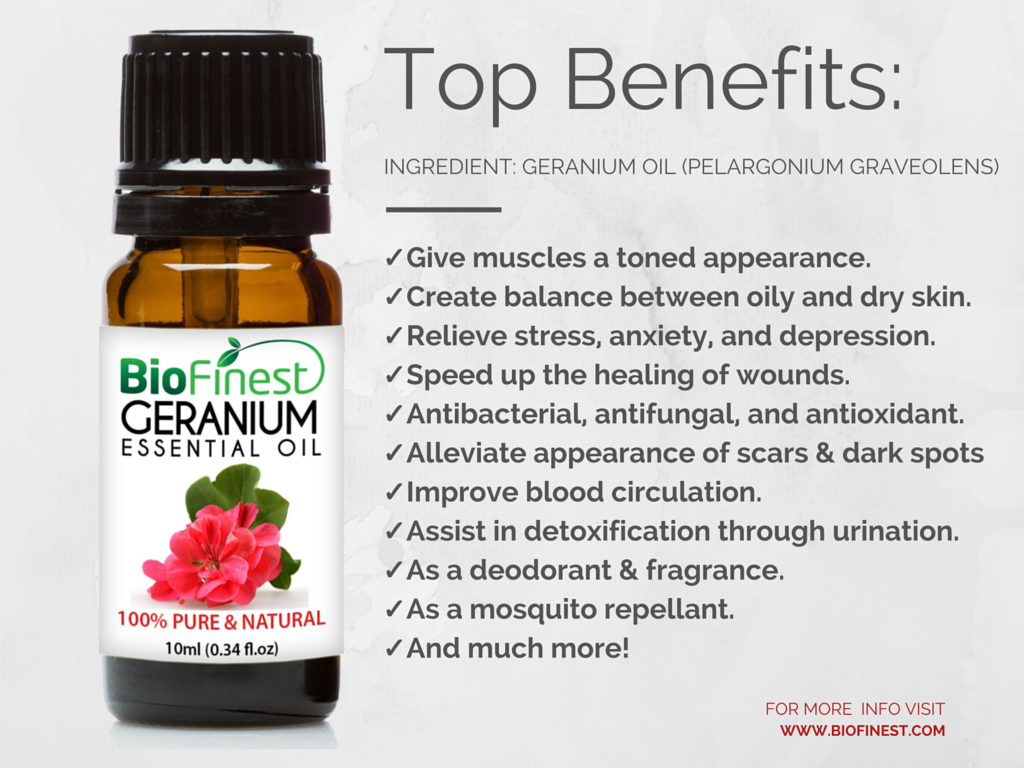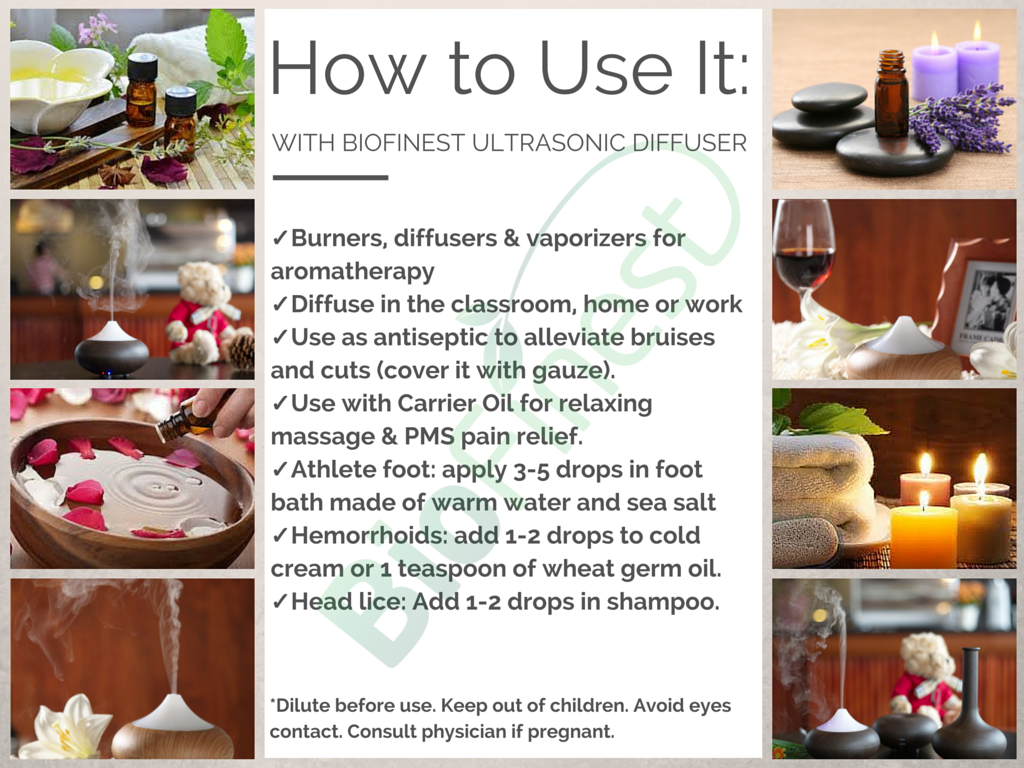 What it is:
Geranium is a perennial shrub with small pink flowers and pointy leaves that is native to South Africa. The oil is widely used in aromatherapy and contains a number of beneficial compounds. It is a strong smelling oil with a floral aroma and a hint of mint, and when extracted from the Odorantissimum plant has a slight apple undertone, whereas the Graveolens oil has a rosier aroma.
     

What it does:
Geranium (Pelargonium graveolens) has a wonderfully uplifting, calming, flowery scent. It is excellent for the skin, and its aromatic influence helps release negative memories. Used traditionally to support the circulatory and nervous systems, its strength is known to lie in its ability to revitalise body tissues.
For effective results and maximum absorption to the skin, use with a carrier oil*.
Safe for ALL skin types!
       

Help to give muscles a toned appearance

       

Help to create balance between oily and dry skin

       

Help to relieve stress, anxiety, and depression

       

Help to speed up the healing of wounds by triggering blood clotting

       

Antibacterial, antifungal, and antioxidant properties.

       

Help to eliminate the appearance of scars and dark spots

       

Help to improve blood circulation

       

Assists in detoxification by increasing the rate of urination

       

As a deodorant due to its fragrant scent

       

As a mosquito repellant

       

And much more!
     

How To Use It:
       

Burners and vaporizers - In vapor therapy geranium oil can be used to help relieve stress, mild depression, PMS, anxiety and tension, menopausal problems and for general energizing.

       

Use as antiseptic to alleviate bruises and cuts, and make sure to cover it with gauze.

       

Adding one drop of geranium oil to a small jar of cold cream or one teaspoon of wheat germ oil can also benefit hemorrhoids.

       

To alleviate athlete's foot, about five drops of the essential oil should be combined with a foot bath made of warm water and sea salt.  The mixture should be set aside in a dark bottle. Massage the formula unto your feet in the morning and at night.

       

Blended massage oil or diluted it in the bath - to assist with PMS, depression, stress, anxiety and tension, fluid retention, edema, eczema, shingles, cellulite, bruises, insect repellent, ringworm, hemorrhoids and menstrual irregularities.

       

Diluted in shampoo - Geranium oil can also be diluted in shampoo to help with head lice.
     

What it does NOT contain:
       

Parabens

       

Sulfates

       

Phthalates

       

Synthetic Fragrances

       

Synthetic Dyes

       

GMOs

       

Triclosan
     

It blends well with:
It blends well with angelica, basil, bergamot, carrot seed, cedarwood, citronella, clary sage, grapefruit, jasmine, lavender, lime, neroli, orange and rosemary
     

Precautions
Possible skin sensitivity. Keep out of reach of children. If you are pregnant, nursing, or under a doctor's care, consult your physician. Avoid contact with eyes, inner ears, and sensitive areas.
Geranium oil should not be applied directly to your skin as a massage oil or added to baths. It should first be diluted with a carrier oil like jojoba oil, olive oil, or sweet almond oils
     

What else you need to know:
We take immense pride in the quality of our oils.  We ensure high quality oils by carefully extracting and cold-pressing or steam-distilling them into 100% pure oil.
*A carrier oil is a natural way to boost absorption and therapeutic properties of other topical oils. Never waste a drop when pairing with high-absorbency carrier oils! We provide high quality carrier oils and recommend to use with our shea butter, jojoba oil, fractionated coconut oil, argan oil, rosehip oil, or tamanu oil.
     

Our 60-Day Satisfaction Guarantee:
We provide the products you LOVE with a 100% money back guarantee.